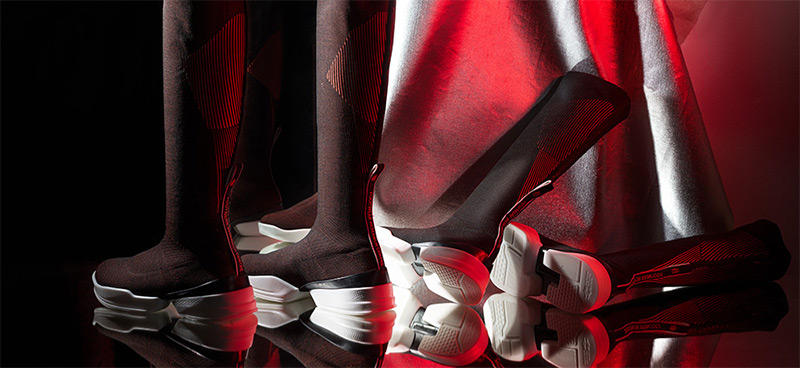 Hi-tech Footwear Skin Collects International Awards
18. August 2021
Designers from the Footwear Research Centre of Tomas Bata University in Zlín won five of the most prestigious international awards in the categories of design, technology and innovation with their shoes called "Hi-tech Footwear Skin".
It was the first time that a university-based research unit had been awarded the Red Dot Design Award, also known as the "Oscar of the design world", the competition of the German Design Council called the German Innovation Award, and, the historically most important award in the field of footwear design, the Global Footwear Award. The tradition of the awards stretches back more than 70 years.
"This confirms that we are still a shoemaking superpower developing footwear for the 21st century," said Tomáš Sáha, Director of the Footwear Research Centre at the Zlín university.
The Hi-tech Footwear Skin product is designed for all-day urban wear responding to the need for comfortable footwear for a middle-aged woman. The benefit of the product lies in the functional and aesthetic solution of the knee-high footwear. The shoe upper reacts flexibly to swelling of the foot and may adapt easily to its shape.
In addition, the functionality of the footwear is supported by an innovative sole construction with a built-in vapour permeable membrane.
Shoes are anatomically shaped
Innovative flexible upper solution (patented)
New sole construction (patented)
Water resistant footwear with vapour permeable membrane (2D knitting technology)
The project partner was the BAŤA company
The project was supported by the Technology Agency of the Czech Republic (TACR)
The implementation of the project took two and a half years and managed to connect the academic sphere with the footwear industry. In total, about 15 professionals were involved. According to Martin Horsák, the Finance Director of the BAŤA company, the shoes will be released in the autumn of 2021.
The main designers were Zuzana Bahulová, Eva Klabalová and Juraj Šuška. The mentor of the project was Prof. Petr Sáha.
Awards Received
Red Dot Award
German Innovation Award
Global Footwear Award