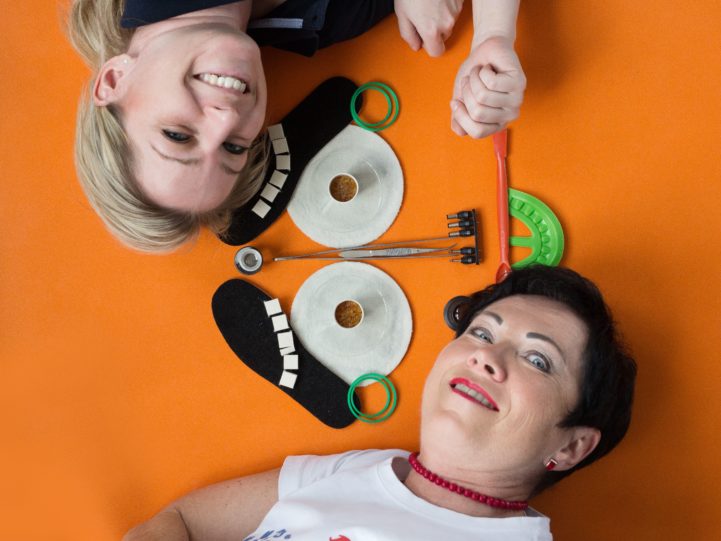 Zlín Footwear Research Centre awarded in Taiwan
Zlín, 20th November 2019 – Success at a global scale has been achieved by the Footwear Research Centre, part of Tomas Bata University in Zlín. Zuzana Bahulová from Zlín, the designer of the logo and the manager of the Centre's Design and Construction of Footwear Department, was selected to join fellow finalists at the Taiwan International Graphic Design Award (TIGDA). Organised by a Taiwanese association of graphic designers based in Taipei, over five thousand participants registered to take part in this year's competition from 67 countries around the world.
Posters presenting the footwear centre were awarded a prize in the Corporate Identity category. They represent the three main sections of the Footwear Research Centre, which are Design and Construction of Footwear, Advanced Materials and Technologies and the Accredited Footwear Testing Laboratory.
The posters show faces created from materials typical for each section. It was their playfulness and creativity that attracted the jury.
"As I created the logo and the posters, together with my colleague Jarmila Roubínková and photographer Nikol Drobná, no one seemed to be expecting that our work would win any award in such a prestigious competition. It was a very creative kind of endeavour, and it leveraged my experience from limited animation as well as lessons learned from my colleague, a footwear expert. I have to say that we are extremely proud of this award, and receiving the prize on the red carpet was a fantastic experience," stated Zuzana Bahulová.
"The act of recognising the logo, part of our Centre's corporate identity manual, is a sign that we are on path to success. Zlín's association with footwear stretches back generations. While our Centre works to build on this heritage, it also focuses on innovation and devising new technologies. The industry believes that fundamental changes are afoot in the technologies of materials," added Professor Petr Sáha, the founder of the Footwear Research Centre.
The award ceremony took place in Taipei and was supported by the participation of Patrick Rumlar, the head of the Czech Economic and Cultural Office.
"Graphic design is a sector that has been given significant attention in Taiwan, and I would like to congratulate designer Zuzana Bahulová on this award. We at the Czech Economic and Cultural Office seek to promote the reputation of the Czech Republic, which is largely aided by the various cultural activities we organise in Taiwan. Awards won by Czech artists at various competitions aid us greatly in this regard", said Patrick Rumlar, head of the Czech Economic and Cultural Office in Taiwan.
The ceremonial opening of the Footwear Research Centre at Tomas Bata University in Zlín took place on 30th April 2019, with participation by important personages from the world of footwear.
"The Centre focuses on innovation in footwear and forges links between academia and the industry," says Petra Svěráková, the spokesperson for the Centre.
Petra Svěráková
PR manažer
Centrum výzkumu obouvání
Univerzita Tomáše Bati ve Zlíně
sverakova@utb.cz