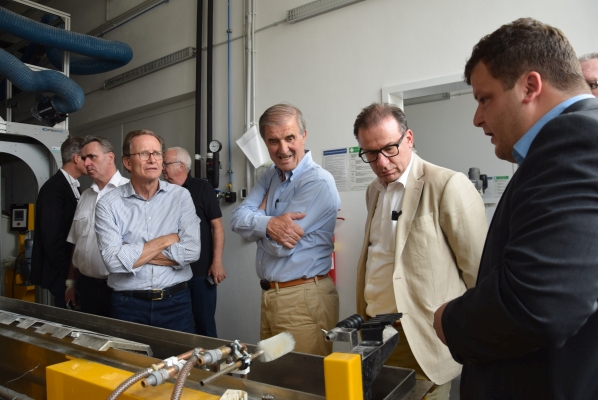 Representatives of the Bata Shoe Foundation Visited TBU
On Saturday 16 June 2018, Tomas Bata University in Zlín hosted members of the Board of Governors of the Bata Shoe Foundation located in Switzerland.
During their visit to the town of Zlín, they took a guided tour of the Centre of Polymer Systems with Prof. Petr Sáha, TBU Rector, and Prof. Vladimír Sedlařík, Director of the Centre. The visit to Zlín was organized by Ms Monica Pignal Bata, granddaughter of the founder of the Bata Shoe Organization. Among others, the guests included her husband Regis Pignal, Chris Kirk, Bata Group Chairman, and Tom Drucker, former general counsel for Bata Ltd., who decided, in memory of his Czech parents, to grant a yearly scholarship amounting to GBP 300 to a Czech student studying at Lincoln College University of Oxford in a Bachelor's, Master's or doctoral programme.