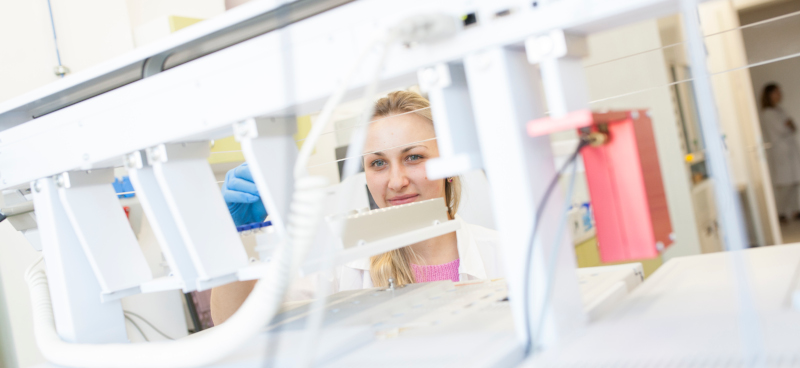 In Cooperation with SPUR, TBU Developed Nanomaterial Able to Protect from Catching Coronavirus
Nanomaterial able to protect the wearer from catching Coronavirus has been developed at the Centre of Polymer Systems of Tomas Bata University in Zlín in cooperation with the Zlín-based company SPUR a.s. Thus, this material meets the standards for the production of medical face masks, which are currently in enormous demand.
"The SPURTex VS material has a filtration efficiency of 99% for a particle size of 400 nm (measured in accordance with EN 149) and, therefore, is in compliance with the FFP3 class. In the range of ultrafine particles with a size of 20 – 400 nm, the material has a filtration capacity of 75-90% (measured in accordance with EN 1822) and ensures a low pressure resistance. The maximum reduction in pressure resistance is a very important feature because it facilitates breathing and minimizes the risk that the inhaled air will pass through gaps between the face mask and the face," explains Dušan Kimmer, who is in charge of the development of nanofiber materials.
As early as 2006, the SPUR company started to carry out research and development activities focusing on nanomaterials. In 2012, they started using equipment of their own design to produce nanofibers. Since 2018, research has continued in the TBU Centre of Polymer Systems.
"Our Centre has a special equipment including follow-up testing technologies, and also has high-quality staff," adds Vladimír Sedlařík, Rector of the Zlín-based University.
In early February, the SPUR company was approached by a customer from Hong Kong, who requested a delivery of high-efficiency material able to offer protection from catching Coronavirus, which causes the Covid-19 disease.
"In cooperation with the CPS, we immediately started optimizing the development of nanomaterials for the required purpose as well as of the suitable supporting materials; a production line was prepared in the SPUR company for the purposes of subsequent production. In late February, we delivered the first several hundred of meters of the material. The current production capacity of the nanotextile corresponds to approximately 15 thousand face masks per day. Our aim is to gradually increase this capacity to 20-25 thousand face masks per day," says Tomáš Dudák, Director of the SPUR company.
And other manufacturers of face masks are very interested in the nanomaterial as well.
"In order to launch a professional production of face masks, we have established cooperation with manufacturers of medical equipment, who process our textiles mainly for the needs of the Zlín Region," adds Tomáš Dudák.
The Fashion Design studio of the Faculty of Multimedia Communications is also involved in the manufacturing of face masks made from nanomaterials.
"In our studio, we now make different types of face masks, which we then immediately distribute further to places where face masks are needed," says Kristýna Petříčková, Head of the Fashion Design studio of Tomas Bata University in Zlín.